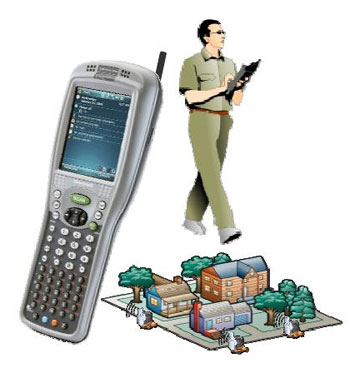 DJB in collaboration with L&T is providing/changing water meters with integrated RF chip. These smart meters will provide you details of consumption day wise
so that we all can wisely save water and electricity.
Meter Reading will also become easy and accurate even wen ur house is locked. Once the meter is installed, every consumer will get ID number against which bills will be raised.
What is AMR (Automatic meter reading)?
Automatic meter reading
, or
AMR
, is the technology of automatically collecting consumption, diagnostic, and status data from
water meter
or
energy metering
devices (gas, electric) and transferring that data to a central database for billing, troubleshooting, and analyzing. This technology mainly saves utility providers the expense of periodic trips to each physical location to read a meter. Another advantage is that billing can be based on near real-time consumption rather than on estimates based on past or predicted consumption. This timely information coupled with analysis can help both utility providers and customers better control the use and production of electric energy, gas usage, or water consumption.
AMR technologies include handheld, mobile and network technologies based on telephony platforms (wired and wireless), radio frequency (RF), or powerline transmission.
Where to Complaint?
Supply, Installation and 7years maintenance of 15mm size AMR/Non AMR water meter confirming to IS: 779:1994 or ISO 4064: 1993 standards with ISI/EEC/OIML/MID certification mark with protection class of IP68 complete in all respect in Delhi.
This is a pilot project for L&T and they have established a system in which we are responsible for supply, installation and O&M of AMR water meters for 7 years.
L&T has designed the website
www.lntdjbwatermeter.com
to keep the records of AMR meters. After installation of meters in consumer premises the data entry is done online on the website for further process of reading and billing. The advantage of online database is its easy access.
For Off-line Complaint registration call :
Contact No
: 9990754111 & 9990754888
Address
:Larsen & Toubro Ltd., C/o Delhi Jal Board
Behind Bansal Sweets, Near Metro Pillar No:360,
Pitampura,110034,New Delhi